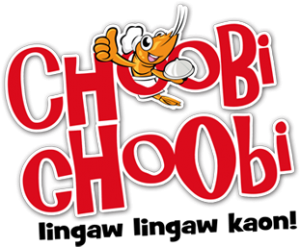 ---
Choobi Choobi is a family oriented casual dining restaurant. Despite it's Korean sounding name, Choobi Choobi's menu courses are mostly Filipino Comfort Food. Choobi Choobi is derived from a Fookien word which means "to enjoy" that's how our tag line "Lingaw lingaw Kaon!" originated.
We grow our own shrimps that's why we have the freshest yet, cheapest shrimps in town.
---
What is also why our house specialties are mostly "shrimps", like "Shrimp in a Bag"; It is a pound of shrimp cooked in different ways and served in a bag, so as to make it easy to mix in the sauce. And also our signature dish "Stan's Fried Black Pepper Shrimp"; Succulent prawns deep fried with a special crispy batter topped with our special Choobi Choobi Sauce. We also serve a wide variety of seafood other than shrimps such as squid, shellfish and fish. Most of which are not found in most restaurants. We are also serving new and imported seafood currently still available in our menu! If you haven't tried our Lobster Fish (Monkfish), Giant Bamboo Clam and Baby Lobsters (Scampi), then this is your opportunity to try these imported seafood at a reasonable price!
Our other specialties include Choobi Crispy Pata (that is crispy on the outside but soft and juicy on the inside), Lola Pepang's Fried Manok, Crispy Adobong Kanding, Stuffed Grilled Squid, Mama Pina's Fried Herbed Spring Duck, The Belly Dancer, Sizzling Boneless Bangus, Cha Tao Miao (fresh and organic Snow Peas sprouts exclusively sold in Choobi Choobi)and so much more.
From our first branch in Parkmall Cebu which opened July, 2013; we have grown by the grace of God. To 16 branches located in key cities such as Bacolod, Iloilo, Cagayan de Oro, Davao and Metro Manila. We are still continuing to grow.